Style & indulgence in every environment
Across this page, you'll find one-of-a-kind bespoke camps that no-one else has replicated, including those created by us exclusively for our private clients. That could mean setting up aurora domes on a frozen lake under the Northern Lights or movie theatres in a dragon-blood tree forest in Socotra.
This is camping, but not as you know it. Set up in otherwise off-limits locations, expect Michelin-standard private dining, masseuses on standby and saunas on frozen lakes. It's all tailored to your exact specification.
Luxury in the wild
Unique juxtaposition
Whether it's a sauna on a glacial ice cap, a dance floor in the African bush or thousand-thread-count Egyptian cotton beds with views of the rainforest wildlife, we bring a slice of luxury to unique settings.
Ultimate exclusivity
The finest seclusion
Not only are these on-of-a-kind experiences, exclusive to you, but – by their very nature – a remote camp offers definitive levels of privacy, hidden away in the natural world.
Tailor made for you
Endless possibilities
We build our camps just for you, meaning that they can be entirely customised to your needs and wants. That might be a spa setup with world-class masseuses on a white-sand beach or a marine biologist to talk you through your day's wildlife viewing over a silver-service dinner.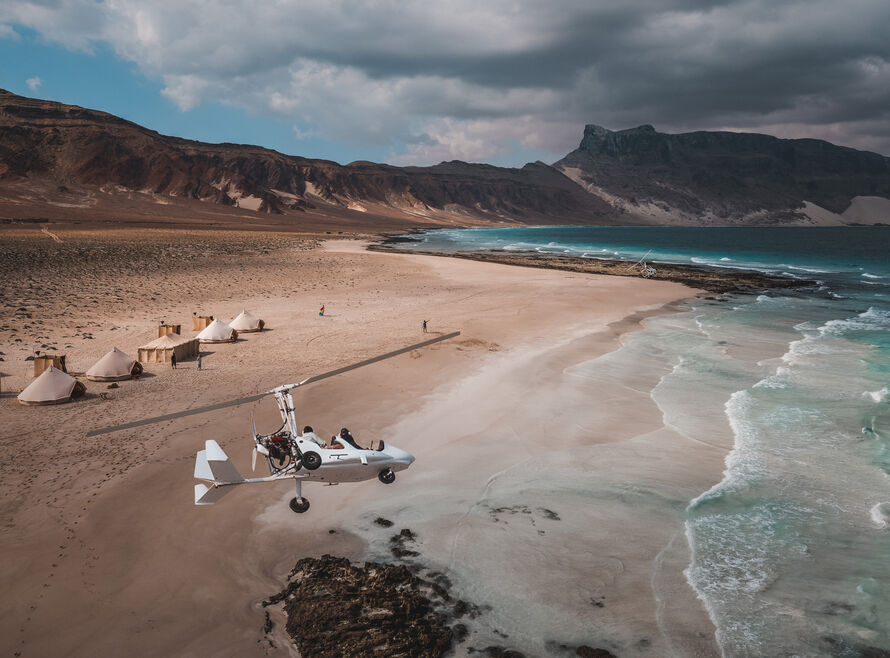 Journey without limits
Get closer
Without being bound by the location of nearby lodges, our bespoke setups can bring the planet's great experiences to your doorstep. That could be a remote wildlife migration, a once-in-a-century celestial phenomenon or simply the chance to step out right into the heart of a Papua New Guinea jungle after a night of luxury.
Leave no trace
Sustainability from the ground up
Our camps operate in some of the most protected of environments, where more permanent accommodation would pose a risk. By creating leave-no-trace camps, we ensure that you'll experience these dramatic locations in a sustainable fashion, while enjoying special access to unique conservation experiences.
Desert & coast
America, Middle East & Africa
From Bedouin-style beach parties in the Middle East and North America to tracking especially adapted lions in Namibia, our luxury camps open up usually inhospitable desert environs with style and comfort. After such adventure fun as rally driving and paramotoring over wildlife, return to wellness spa setups and Milky Way stargazing.
Polar & sub-Arctic
ANTARCTICA, THE NORDICS & THE ARCTIC
A bespoke camp is the only way to experience much of the Arctic and Antarctic's true remotes. Under the likes of the Midnight Sun and Northern Lights, think exclusive access to otherworldly landscapes that backdrop unique wildlife and adventure experiences. It's all tailored to you, before you return to warming saunas and private-chef dining. And, instead of demanding permanent accommodation, our setups are strictly sustainable, leaving no trace in these most fragile of environs.
Africa
East & Southern Africa
There's no better way to immerse yourself in the African bush, following wildlife migrations and enjoying the ultimate in exclusive seclusion with your very own boutique camp. Not only will you get closer to the wildlife, but our exclusive contacts can see you enjoy authentic interactions with remote tribes. Then, each night, return to campaign-era luxury mixed with plenty of Cookson fun. Think grand dining setups and dance floors in the bush.
Expedition camps
Global adventure
From great undiscovered caves and jungle canopies to the North and South Poles, we use expedition camps to access world-first settings where other logistics aren't possible. Of course, there'll be more than a touch of luxury, whether private-chef dining or pre-trip stays in the world's most luxurious accommodation. There's also something wonderfully freeing about the simplicity of it all, sleeping under the stars or among the jungle canopy and enjoying the open-fire cooking.
Contact our expert team today and see where it takes you.